Petrovich
Ajánlat ID-ja: 7057
Cél
Kifizetés
Feldolgozás
Post-click
Elfogadás százaléka
Paid order

Valuta: RUR
ID célok: 9881 (Aktív)
1.5 %
maximum 30 days


30 days

76.34%
Geo-targeting:
Oroszország (cities: Moszkva, Moszkvai terület, Szentpétervár, Leningrádi terület, Tver, Novgorodi terület, Petrozavodszk)
Leírás:
LLC «Trade House Building Petrovich» was founded in 1995 and specialized in the sale of construction materials.

The company owns a network of fifteen sales offices in St. Petersburg, Northwestern Federal District and the Central Federal District and also production sites. The product range consists of more than 15 thousand SKU. The majority volume of sales comprises materials for general construction purposes. Company "Petrovich" positions itself as a multi-channel retailer, which distinguishes it from most of its competitors. The user can choose any convenient way of buying and payment: via the call center, via the website or directly in the shop.
For legal entities are active the individual prices and the delay in payment. For individuals was developed a loyalty program "Club of friends Petrovich", which today has more than 200 thousand active participants.
At the end of 2013 and 2014 "Petrovich" is the fourth largest in Russia among companies trading in building materials, and is the largest of the domestic DIY-networks (rating INFOLine «DIY Retailer Russia Top»).

The quality of goods and services provided by STD "Petrovic" is confirmed by the quality certificate ISO: 9001.
Growth dynamic of interntet shop:
Due to the successful business model over the past fifteen years, the company shows stable growth - more than 20% annually. According to RBC rating in 2013 and 2014, "Petrovich" entered the 30 fastest growing companies in Russia. The most dynamically developing area up to the years 2014 and 2015 began to trade online - sales through the company's website during that period doubled and amounted to more than 23% of total sales.
KEY FEATURES PORTRAIT target audience:
| | |
| --- | --- |
| St. Petersburg | 73,18 % |
| Мoscow | 19,30 % |
| Velikiy Novgorod | 2,57% |
| Petrozavodsk | 1,94% |
| Vyborg | 1,33% |
| Tver | 1,13% |
| Kingisepp | 0,54% |
Distribution by sex and age:

70% of users - men aged 25-55 years.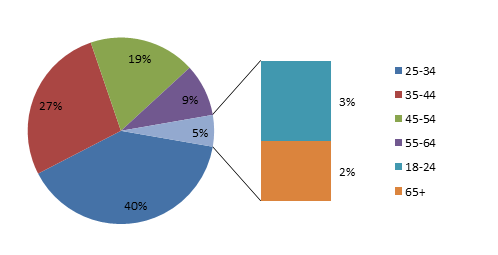 Benefits for the customers:
1) Fast delivery time: 2 hours - to St. Petersburg, and 6 hours - to Moscow;
2) A wide range of products
4) Quality guarantee:purchase returns within 120 days
5) Payment by cash and card
6) The largest loyalty program for professional builders: Friends Club Petrovich - during the buying program participant accumulates points and exchange it for prizes and discounts.
Benefits for the publishers:
High performance - 85%

Average check - 15 000 rubles

Possibility to receive an exclusive rate

Regular shares

High-quality promotional materials
Publishers reward depending on the customer and the type of traffic:
| | | |
| --- | --- | --- |
| Action | Withour APRT | APRT |
| New customer | 6,15% | 4,62% |
| Existing customer | 1,15% | 1,15% |
BE PARTNER OF THE PETROVICH COMPANY - PROFITABLE AND CONVENIENT! CONNECT RIGHT NOW!

Attention! The final calculation of the fee remuneration for the new / existing customer is made when the order is assigned the "paid" status.
Sources which rate of the new customers is less than 20% will be attributed to the retargeting channel.
ATTENTION! It is forbidden to use toolbars / plug-ins / extensions for browsers. Orders attracted using forbidden methods will not be paid
Landing oldalak (2):