KupiVIP.ru - Exclusive brands with discounts up to 90%
Offer Id: 592
Aim
Payment
Processing
PostClick
Accept rate
Paid order (established customer)

Купонные площадки - 4% Остальные виды трафика - 10%

Currency: RUR
Aim id: 2006 (Active)
4-10 %
maximum 30 days


As average 7 days

30 days

No data

Paid order (new customer)

Currency: RUR
Aim id: 6185 (Active)
5.98 %
maximum 30 days


As average 7 days

30 days

No data

Оплаченный заказ (BY)

Currency: RUR
Aim id: 10777 (Active)
5.98 %
maximum 30 days


As average 7 days

30 days

No data
Geo targeting:
Belarus, Kazakhstan, Russia
Description: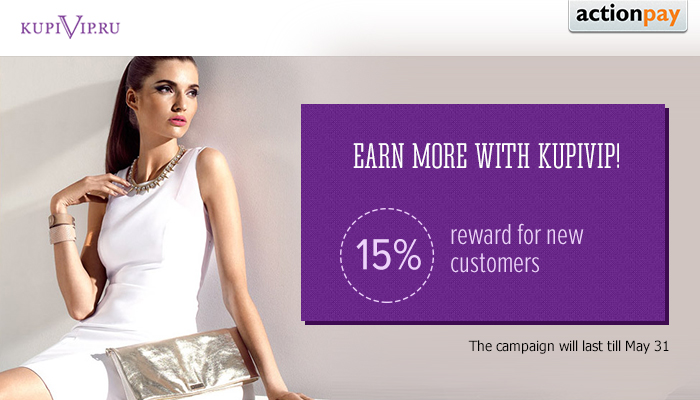 KupiVIP.ru - is a large online-store that provides products and services of premium at competitive prices. Within a short time has won the trust of consumers and support a consistently high level of sales, effectively promoted by means of the Internet. The company is a sponsor of the "Fashion Week in Moscow", participates in charity events, investing projects. KupiVip.ru marketing budget for 2011 - more than 2 million euros. KupiVip is the most effective means of promoting products of prestigious brands. Multimillion-dollar investment in a number of venture capital funds online shopping club KupiVIP was a record for the Russian market of e-commerce, such as Facebook invested at the beginning of last year, 20 million. $. The company is estimated at 10 million. $.

KupiVIP.ru provides registered users:
15 new shares every day;




products exclusive brands;




delivery in Moscow, in all regions of Russia;




the opportunity to see the goods before payment of the order;




convenient system of returning the goods without giving reasons;




club discounts up to 90%;




wide range of products of various stylistic decisions and price range;




follow fashion trends;




individual approach to each client and high quality service.



Your advantages when working with the affiliate program KupiVip.ru:
- KupiVip.ru is one of the leading online stores Runet.
- Perform regular testing of the site to increase conversions.
- The company provides a wide range of promotional materials.
«Hot Winter!" in Kupivip.ru from 16.01 to 31.05 do not miss out, start a new offer!
Earn 3 times more:
For paid order (new customer) the remuneration for webmasters is 15%
For paid order (old client) - fee for webmasters is 5%
Terms and Conditions:
Paid all delivered orders.
Income brought orders from new customers 15%.
Income brought orders from old customers remains the same 5%.
Our tools:
Commodity XML feed.
Unloading with information about promotions and coupons with discounts up to 90%.
Banners with the goods, giving maximum CTR.
Deeplink.
Assistance in providing layout, text, information about promotions
KupiVIP.ru - it's more than 2,000 brands of fashion apparel, footwear and accessories with discounts up to 90% every day!
We guarantee the highest prices for consumers and a large range of products for the whole family.
All new customers we give 500 rubles for the first purchase after registration.
All this allows to obtain good conversion.
Meet the new year with a profit of KupiVIP.ru!
Landings (11):
Offer news:
29/03/2018, 18:56

Attention! Change in conditions in the Kupivip

Attention!

Since 01.04.2018 in the Kupivip's office the terms of cooperation have changed:


For the paid order remuneration for the webmaster is 3.26%
For the paid order (with promotional code, cashback and loyalty program), the reward for the webmaster is - 1,63%
For the paid order (from the market-place) - 10,10% Please take it to work.

The offer is available at the basic rate.