Moneyveo UA - Loan to the bank card
Offer Id: 4158
Aim
Payment
Processing
PostClick
Accept rate
Issued credit

Currency: UAH
Aim id: 5333 (Active)
400 ₴
maximum 25 days


30 days

100%

Повторный кредит

Повторный кредит

Currency: UAH
Aim id: 16798 (Active)
24 ₴
maximum 27 days


30 days

100%
Description:
Special offer for webmasters to 03/18/2015: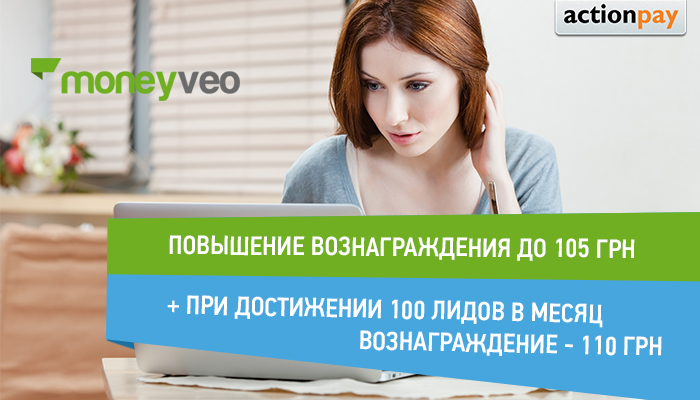 MONEYVEO - is a new service makes it very easy to get a loan to a bank card at any place and at any time, even on weekends and holidays, just a few minutes. The service works completely online 24/7!
Loan conditions:
Loans of up to 5000 UAH. (Up to 2000 UAH. At the first call) for up to 30 days. All you need to get a loan - it is the bank card and Internet access.
Who can get a loan? Any adult citizen of Ukraine, having a bank card.
How to make quick decisions? The decision is made automatically within 15 minutes.
MONEYVEO constantly improving decision-making system, so even refused, we recommend re-apply to the service over time.
Customer benefits:
Honest transparency.
Ability to repay the loan early without commissions for early repayment.
High standards of data protection.
Partner Program Benefits:
Rapid confirmation of applications - online;
A high percentage of approval of applications;
Excellent monetizing your website and traffic.
Landings (1):
Additional conditions:
SEO for the brand can not be used