Aim
Level
Processing
Postclick
Accept rate
Paid order New

Currency: USD
ID: 7655 (Active)
2,6 - 8,5 %
maximum 65 days


As average 40 days

1 day

100%

Completed order

Currency: USD
ID: 11391 (Active)
ID for application: completed
2,6 - 8,5 %
maximum 5 days


1 day

92.26%

Бонусные выплаты

Currency: USD
ID: 12206 (Active)
100 %
maximum 10 days


30 days

100%

Оплаченный заказ Tmall

Заказы учитываются только при прямом переходе на Tmall. Все совершенные действия учитываются в отдельном оффере Tmall AliExpress (10220).

Currency: RUR
ID: 15315 (Active)
1.4-2.9 %
maximum 70 days


As average 40 days

1 day

No data
Geo targeting:
All countries.
Description: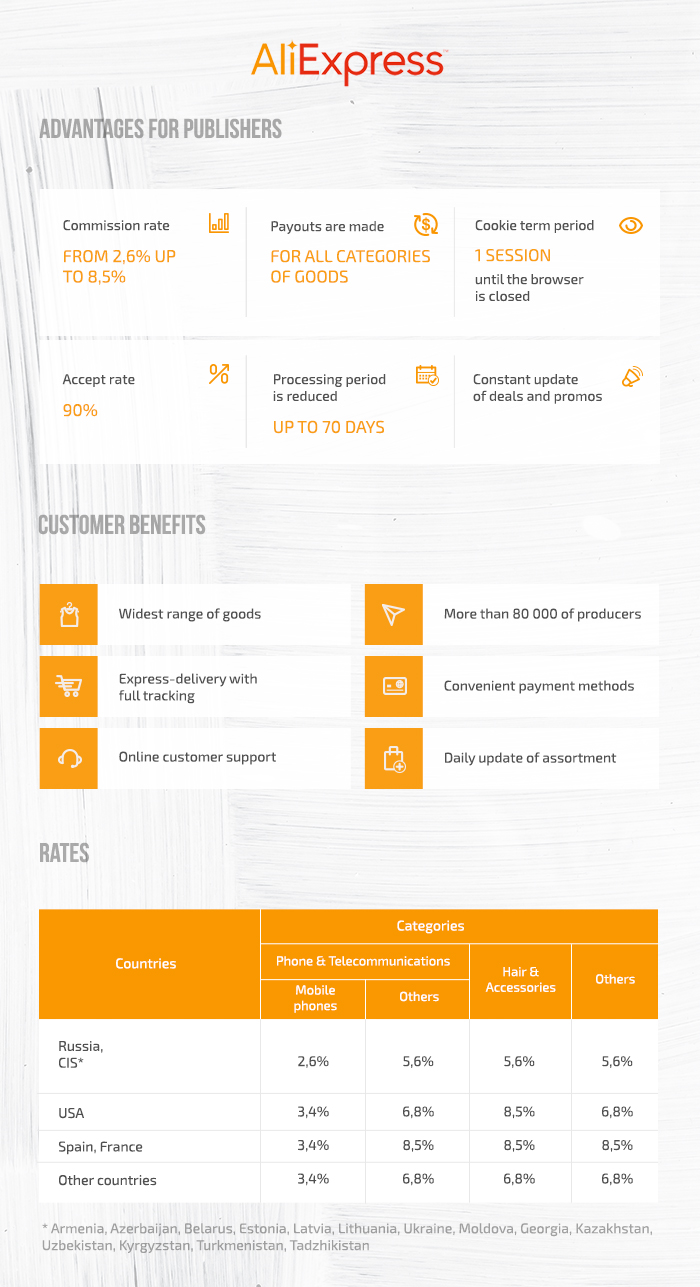 ATTENTION!
Dear publishers!
Pay attention that the settings of the program has been updated.Now you are be able to track the number of actual orders quicker and to predict the commission amount more precisely.
Details: Another purpose was added to the program- "Completed order".
At first all orders get on purpose "Paid order" with the date of order placement and the commission size amount as well. When the advertiser finalizes the statuses of these leads, they are duplicated on the second purpose "Completed order" and contain the equivalent duplicates of the placed orders with actual date of their final status, including the commission for payment. After that, all commissions of orders on the purpose "Paid order" will be nullified.
*Dear publishers please pay attention that average processing period makes 60 days (during this period orders get the final status). But in extraordinary cases processing period can be increased on the side of advertiser.
Landings (39):
Additional conditions:
Attention! Pay attention that from the 1st of June, 2016 the prohibition of purchase of the brand words of AliExpress or any related words by means of Search Engine Marketing (SEM) or other means come into force. In case of violation detection the partner won't get any payment for the successful leads for month the violation was detected. If you have additional partner programs to avoid a double penalty, we recommendyou to adjust SID.
Offer documents:
Offer news:
yesterday, 13:36

Attention! Technical works in AliExpress offer

Technical works are happening on advertiser's side, related to the coming conditions changes. due to this, the commission for some actions may not be displayed correctly and will be corrected later. All problematic actions will be taken into account and correctly recounted. After the end of the technical works, we will inform you about the final changes in conditions.