Tmall AliExpress
Offer Id: 10220
Aim
Payment
Processing
PostClick
Accept rate
Paid order

С 20 апреля по 30 апреля включительно, все заказы по всем товарам Tmall брендов Bosch и Redmond будут иметь фиксированную ставку 7.4%

Currency: RUR
Aim id: 15036 (Active)
1.4 - 7.4 %
maximum 70 days


As average 40 days

1 day

98.03%
Description:
Tmall AliExpress is a well-known international online shop of brand products at the lowest prices, with fast delivery from warehouses in Russia and a guarantee on the territory of the Russian Federation.

How is Tmall different from AliExpress?
While the AliExpress site always had a favorable price and product diversity, Tmall is designed for buyers who have high quality demands on product and service. When shopping at Tmall, the buyer receives assurance that the goods are carefully selected for their quality, and the seller is a brand with years of experience. In addition, only Tmall's sellers offer superior service delivery from the warehouse in Russia, Russian-speaking support (phone or chat) and warranty repair and exchange in Russia.
Benefits for clients:
Ongoing promotions and discounts, for example, the "Discount day".
100% quality guarantee.
Original goods.
Fast delivery.
Russian language Support.
Prices are lower by 5-10% than the competitor's.
Benefits for publishers:
High conversion.
A huge number of users.
Customer loyalty.
A decent payout: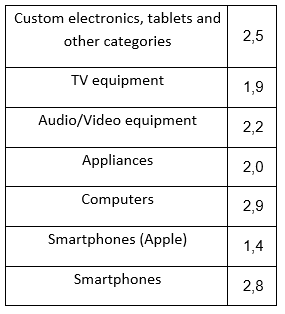 Attention! Orders on placed on Aliexpress, after visiting Tmall, will not be considered as leads!
Attention! Statistics reflects the leads in 2 days after the order is placed!

Landings (6):
Offer news:
11/04/2018, 16:33

Attention! Comissiom increased in offer Tmall AliExpress

Publisher comission raised to 5.7% (with the exception of Apple products) until 16.04.2018


Join and earn!