Lamoda - clothing online-store
Offer Id: 3226
Aim
Payment
Processing
PostClick
Accept rate
Paid order without coupon

Publishers using coupon and cashback services will earn 9%

Currency: RUR
Aim id: 4020 (Active)
12 %
maximum 90 days


As average 40 days

30 days

71.25%

Paid order with coupon

Publishers using coupon and cashback services will earn 3%

Currency: RUR
Aim id: 5505 (Active)
12 %
maximum 90 days


As average 40 days

30 days

72.22%
Description:
C 26.04 the connection of new webmasters with traffic from the social network groups stopped!
At the request an advertiser Lamoda from 25.02.2016 cashback-services NEVER charge a cash / bonus compensation to the customer more than 5% of the amount paid for the order.

Lamoda.ru – is the largest company in the e-commerce sector, carrying out online sale and delivery of fashion apparel, shoes, accessories, cosmetics and perfumes. Assortment online store Lamoda.ru has more than 2 000 000 goods and 900 authentic brands. Today Lamoda.ru is a leading Russian online clothing and shoes stores. The success of the company is evidenced by such indicators as the annual turnover and the traffic that since March 2011 has increased to 20 million unique users. In 2014, Lamoda became a part of GlobalFashionGroup - holding of companies created Kennevik, Rocketinternet and AccrssIndustries.
Dynamics growth
1000+ brands
20 million + visitors per month
8 million + unique visitors per month
1.7 million + news delivery per day
1.9 million + customers
1.7 million + orders for the first half 2014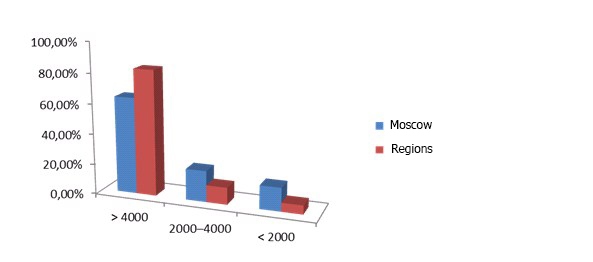 Customer's benefits:
Convenient to buy
· Free shipping
· Trying before buying
· Convenient Returns
· Various payment methods
Guarantee
· Authentic brands
· Customer Support 24/7
Excellent range
· Most recent collection
· Promotions
· Stylists
· Fashion magazine
Webmasters benefits:
· Most commission inquiry
· Regularly usability - testing site to fight for an increase in the conversion. Ie amount of bandwidth required for one sale is gradually reduced;
· Lamoda.ru brand awareness on the Internet is growing every day, because invested heavily in advertising, ie CTR promotional materials, which have a logo Lamoda.ru, is growing;
· Individual banners and promotional code
· Regular updating of coupons and discounts
· Constant actions to improve earnings partners.
· Updated top 1000 most popular items!
Already more than 16,000 webmasters chosen Lamoda. Join the best team!

Offer rules:
1. Do not place the shares without a valid promotion code.
2. Do not mislead users, creating false shares (example: "Free Shipping", "free fitting", etc.) indicating the "Coupon is not required" or similar variations.
3. Never use stale shares (if the validity of the action for 2 days, then only 2 days the information about this event can be on your site)
4. If you are creating a share with a promo code for a specific category of goods (scarves, dresses, etc.), the link should lead on this collection of goods.
5. Description of the coupon on the site must conform to place shares.
The advertiser is the right to reject orders without giving any reason!
Landings (47):
Additional conditions:
Advertising is not permitted for the brand (mention of the words "lamoda", "lamoda", and so forth.)
It is forbidden to use domains with the word "lamoda", "lamoda."
Banned e-mail newsletter. Possible to consider e-mail newsletters individually.
Prohibited the use of coupons, not intended for system partners. the use of such codes can serve as a basis for refusing to pay the order.
It is prohibited in the placement of advertisements use phrases «NIKE» "REEBOK", "ADIDAS" and "discount" in all possible variations, as well as all derivatives of these words.
It is forbidden to produce automatically transition to the advertiser's site in a minimized window.
It is forbidden to automatically open an additional window after the transition to the advertiser's site.
It is prohibited in the text of advertisements / mailings exceed the size of the discount is greater than 70% (80-85-90 - can not)

Contextual advertising is prohibited and punishable by the detection of disconnection from the affiliate program with zeroing all payments.
Offer news:
25/12/2017, 17:50

New promo from "Lamoda" program.

New banners were added to the offer.