Aim
Payment
Processing
Postclick
Accept rate
Paid order

Currency: RUR
Aim id: 7615 (Active)
10 %
maximum 35 days


As average 30 days

30 days

16.09%
Geo targeting:
Only cities: Moscow, Moscow region.
Description:
Food online shop Instamart: convenient delivery of products and goods at home and in the office!

Instamart (LLC "Instamart") offers online ordering and delivery of products as well as products for the home and office in Moscow and the Moscow region.
Instamart delivers natural and legal persons hundreds of orders every day. Among the thousands of loyal customers of Moscow consumers, as well as more than 500 Russian and international companies, including Intel, Quintiles, Railways, Islet, Wamba.ru, Ostankino and many others.
Over 90% of our customers are regular customers.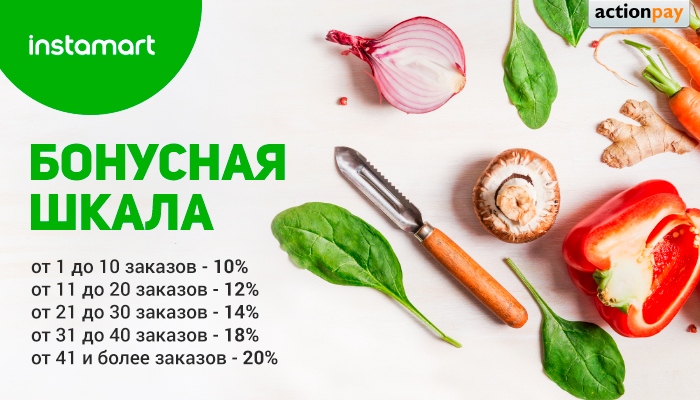 Benefits Instamart:

1. Delivery is free for orders over 3000 rubles.
2. Order online in 3 minutes
3. Quality Assurance
4. Average ticket 8000r

5. Loyalty program
The benefits for webmasters:

The popular service




The broad target audience,



Various promotional materials,

Opening hours seven days a week, every day from 08:00 until 20:00.
ATTENTION! BONES SCALE IS ACTIVE:
| | |
| --- | --- |
| Type | commission rate , % |
| Paid orders from 1 to 10 | 10% |
| Paid orders from 11 to 20 | 12,00% |
| Paid orders from 21 to 30 | 14,00% |
| Paid orders from31 to 40 | 18,00% |
| Paid orders from 41 and more | 20,00% |
Landings (2):
Offer documents: