izobility.com - goods from China
Offer Id: 4023
Aim
Payment
Processing
Postclick
Accept rate
Paid order

Currency: RUR
Aim id: 5164 (Active)
4 %
maximum 60 days


As average 30 days

30 days

50%

Оплаченный заказ Le2

Currency: RUR
Aim id: 16374 (Active)
8 %
maximum 30 days


30 days

No data
Geo targeting:
All countries except: Canada, USA.
Description: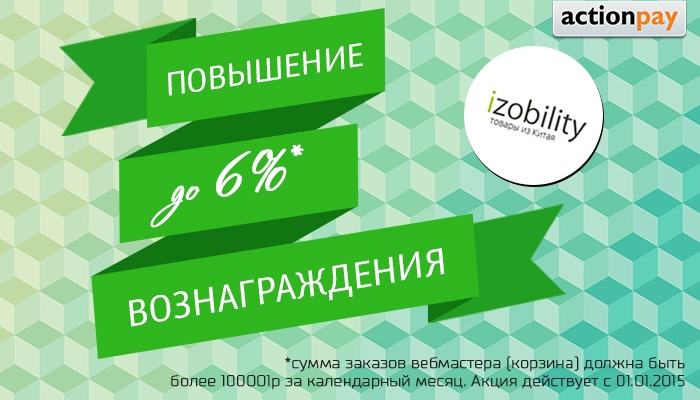 izobility.com - is an aggregator of quality goods from China, sold around the world on the model of cross-border. izobility - convenient shopping service with free delivery and consultation in Russian. All new items, bestsellers, and just popular products available on the website at competitive prices directly from the manufacturers.
izobility provides access to high-quality goods from China's largest online store Taobao.com for any user. The client does not need to know additional languages ​​or use a translator: catalog, advice and purchase only in Russian.
The main advantages of the project - a selection of suppliers to improve the quality of goods, free shipping and return capability.
Customer benefits izobility.com:
Free shipping for all items in this catalog
Advice in Russian in size and characteristics of the goods
Possibility to return goods are not coming up
Worldwide delivery
Range of more than 35 million products from 1,500 categories
Easy payment cards or electronic money
Reviews on more than 20,000 products
Calculation in rubles
More than 12 000 active customers across Russia, CIS and EU
Permanent promotions and discounts online
Partner Benefits izobility.com:
Continuous operation with the site, the constant growth of conversion
Loyalty System: from 4% to 6% depending on the order of turnover
Range of more than 40 million products.
Average bill: 2800 rubles
Easily traded goods increased demand
The Russian-language customer support and partners
Deeplink - traffic to any page of the site
You bring customers - we do the rest!
CA - F 76% (71% at the age of 18-34, 15% aged 35-44, 14% - the rest)
M 24% (71% at the age of 18-34, 15% aged 35-44, 14% - the rest)
GEO 83% - of the Russian Federation, Kazakhstan 9%, 4% of Ukraine, the remaining 4%
Popular categories:
Products for women - 89%
Products for men - 43%
Children's products - 43%
Homeware - 38%
Sporting Goods - 20%
Gadgets - 9%
izobility.com - buy in China profitable and easy!
Landings (30):
Additional conditions:
Размещение рекламы в соц сетях возможно только после согласования контента объявления, а также группы и профайла. ЗАПРЕЩЕНО размещать рекламу в официальной группе магазина.
Offer news:
29/01/2018, 11:57

Attention! New product in "IZOBILITY" offer!

A new product now avaliable - the smartphone LE2.

Comisssion for paid order of LE2 - 8%.

LE2 Landing page is added to the offer.